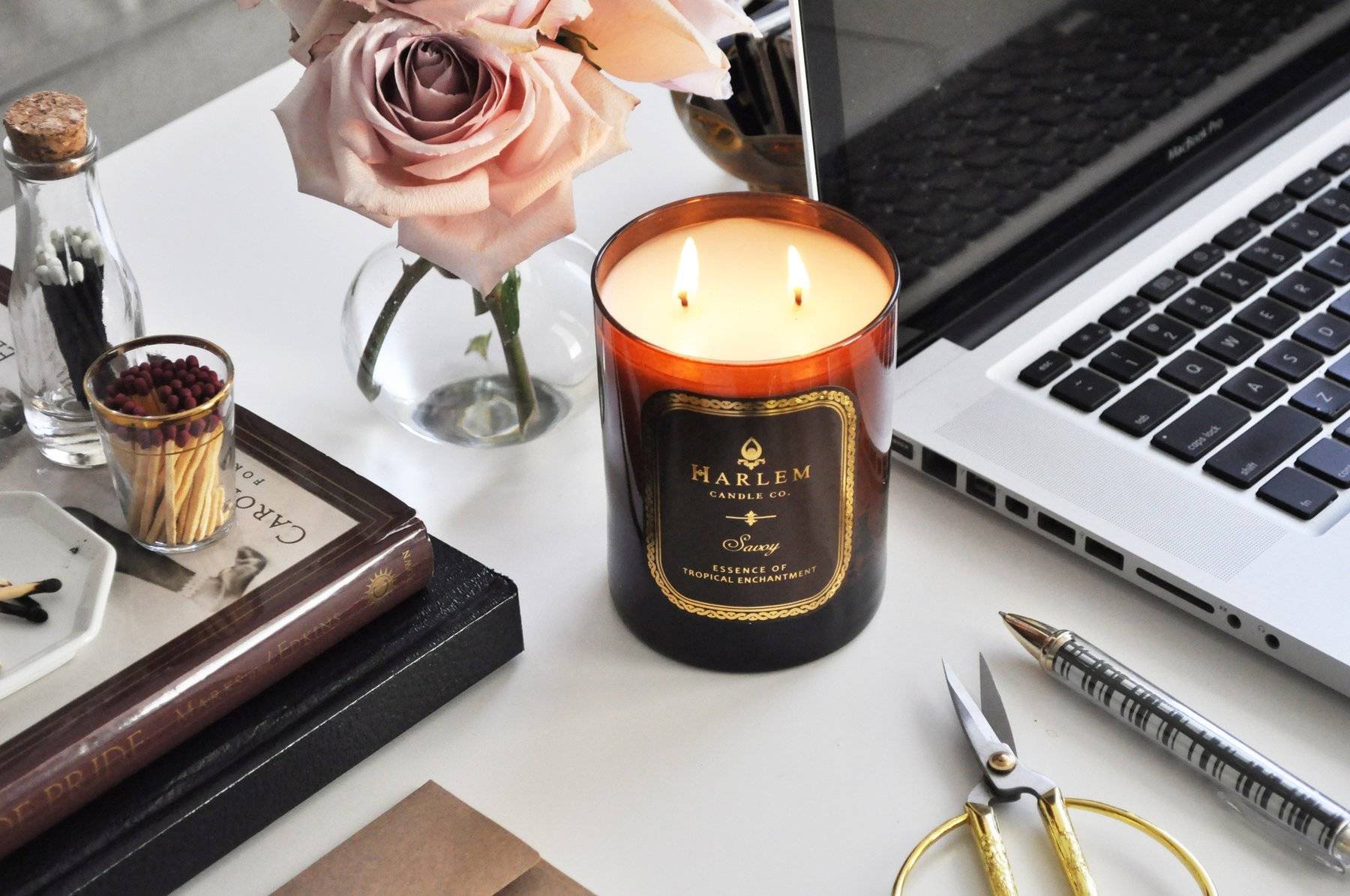 Harlem Candle Company
"Savoy" luxury candle
The Savoy Ballroom was the soul of Harlem, and kept Lenox Avenue jumping for decades. It was a block long, dripping with glittering crystal chandeliers and an elegant marble staircase, and is known for having birthed the Lindy Hop.   The glamour and excitement of nights on that iconic dance floor are beautifully reflected with a luscious overture of blackcurrant, tart mandarin, crisp green apple and juicy pear evolving into a flirtatious floral heart of Lily of the Valley and jasmine petals. Sensual sandalwood and sheer musk bring warmth to perfectly balance this intoxicating blend.
Top: Ozone, Cassis, Mandarin
Mid: Lily of the Valley, Pear, Apple, Jasmin 
Bottom: Musk, Sandalwood
Volume: 12oz


Diameter: 3.25 in
Height: 4.25 in
Burn time: 80 hours
Delicious savoy
One of my favorites gifts to give is the savoy candle.
Love this candle
Love their candles. It's a clean subtle scent. I light my candles every night.
Gifts for Father's Day
I bought the Ellington travel candle for someone special for his Father's day present. But because this person is verrrrry picky about evertyhing! My fear was that he was not going to like the gift. I took a leap of faith and lit the candle and he came over to my house and when he entered the living room, he immediately the scent. He ask what was he smelling? I told him his father's day present. The two of us started to laugh, because I finally got it right, a gift he liked. I was a bit skeptical giving someone candle as a gift. But from now on I will give Harlem Candles as gifts to people celebrating a birthday, anniversary and next year Father's day. Thank you Harlem Candle Company.
Lovely summer scent
I purchased this scent because, as much as I love the Josephine candle, it was a little too heady for hot summer days. The Savoy candle is a perfect complement to that. Savoy is a sweet mix of floral and fruity, with a hint of beach/summer vibes. And it has enough complexity and delicateness that it's not nauseating (for those of you who, like me, can be on the fence about fruity candles). One thing I love about these candles is their quality - the wicks are strong and the smell lasts for hours after the candle has been snuffed out. I can't wait to try all the candles - something tells me I won't be disappointed by any of them!
Best scent ever
I'm obsessed with the "LOVE" candle. I can't wait for it to be restocked!!!!