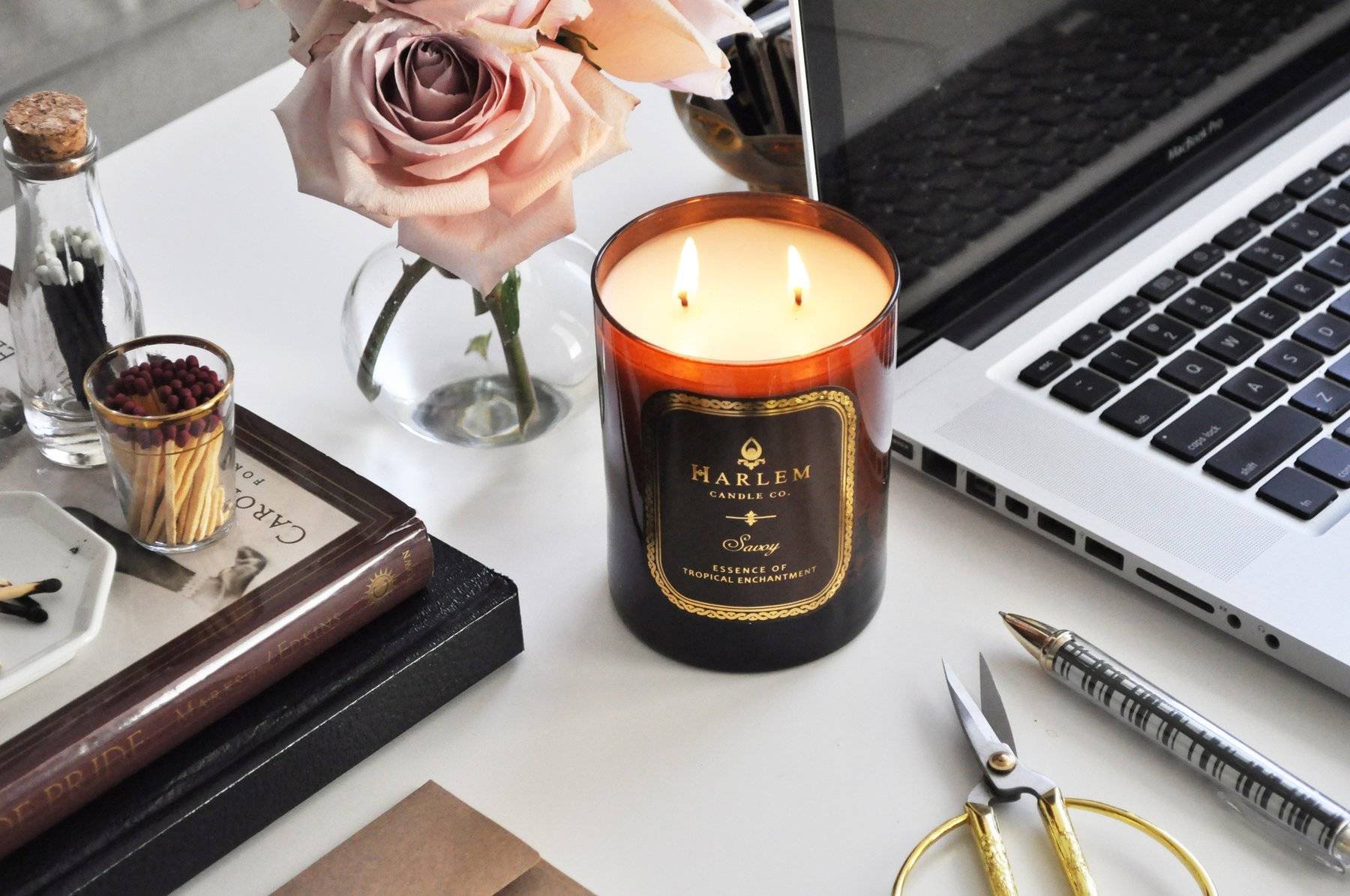 Harlem Candle Company
"Savoy" luxury candle
The Savoy Ballroom was the soul of Harlem, and kept Lenox Avenue jumping for decades. It was a block long, dripping with glittering crystal chandeliers and an elegant marble staircase, and is known for having birthed the Lindy Hop.   The glamour and excitement of nights on that iconic dance floor are beautifully reflected with a luscious overture of blackcurrant, tart mandarin, crisp green apple and juicy pear evolving into a flirtatious floral heart of Lily of the Valley and jasmine petals. Sensual sandalwood and sheer musk bring warmth to perfectly balance this intoxicating blend.
Top: Ozone, Cassis, Mandarin
Mid: Lily of the Valley, Pear, Apple, Jasmin 
Bottom: Musk, Sandalwood
Volume: 12oz


Diameter: 3.25 in
Height: 4.25 in
Burn time: 80 hours
Savoy
What a lovely candle this is! As per usual with Harlem Candles Company candles, the hot throw on Savoy is exceptional. It scents my entire home! A delicious balance of fruit and and floral, Savoy is not one to miss! Highlights for me are the cassis, Lily of the Valley and the pear!
My favorite scent
There is something about the Savoy candle. The scent is warm and soothing and an all around delight. The throw is solid and the scent lasts from beginning to end. I have purchased the Savoy candle more than once and I will,purchase it again.
Awesome
This scent was well executed  it creates the perfect ambiance, feels my home with the essence of nostalgia and can be used and any room but I prefer either bedroom or living room.
Awesome fragrant candle. Fills room with delightful aroma.